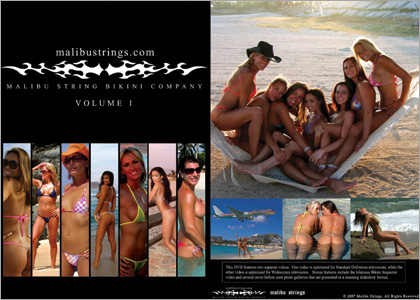 FRONT COVER |
BACK COVER


To view the preview in QuickTime, ckick here.
Malibu Strings DVD - Volume 1

Featuring the most beautiful women in the world, wearing the sexiest swimsuits on the planet, Vo1. 1 is a must have for the Malibu Strings fan. Vol. 1 is a breathtaking collection of video, shot in exotic locations around the globe, of some of our most popular contributors. The DVD features a 1 hour and 35 minute video optimized for Standard Definition viewing, another 15 minute video optimized for HD/Widescreen viewing, the hilarious Bikini Inspector video, and 8 stunning photo galleries.

Starring: Alicia, Angela B., Angela S., Anna, Barbara, Brandi, Brianna, Christy, Courtney, Daly, Danielle L., Danielle M., Jennifer, Jordan, Kelly, Kimmy, Kyla, Nicole, Laurie G., Lilian, Lo, Lolo, Mer, Michele W., Natasha, Sasha, Stacey, Stacie, Suzanne.

WARNING: Video contains nudity. Parental discretion is strongly advised. YOU MUST BE 18 YEARS OLD OR OLDER TO ORDER VIDEO. By ordering you agree that you are at least 18 years of age or older.