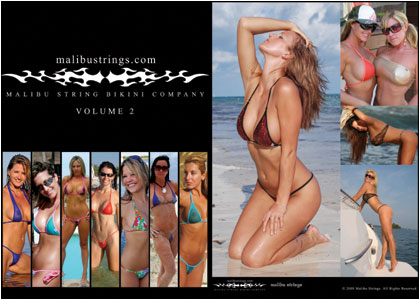 Malibu Strings DVD - Volume 2

We thought it would be impossible to top Vol. 1, but we did. Featuring 42 of Malibu Strings most popular contributors, Vol. 2 is a jam packed tribute to the most beautiful women in the world wearing the sexiest swimsuits in the world. Featuring never before seen video and pictures that will blow you away, Vol. 2 is a must have for any Malibu Strings fan. Starring: Kimmy, Crystal, Alicia, Dawn, Share, Gina, Jaden, Caroline, Anette, Laurie G., Annie, Lilian, Diane, Danielle, Summer, Lo, Suzanne, Krista, Jeni, Amy M., Courtney, Andrea, Barbara, Charlotte, Daly, Jodi L., Natasha, Sue-Ellen, Deborah, Amber, Stacie, Monica, Jana, Patty, and KJ.

WARNING: Video contains nudity. Parental discretion is strongly advised.